Sakura Doumyouji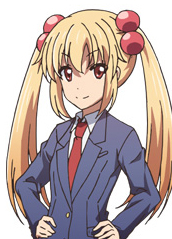 Voice actor
Miharu Kobayashi
Sakura Doumyouji (voiced by Miharu Kobayashi) is a main character in Chronicles of the Going Home Club.
Personality
Edit
Sakura is the founder and president of the Going-Home Club, as such she is fun-loving as if she were a child. She seems to dislike being excluded from club activities, as shown when the other four members were playing a game she suggested without her and then she calls it off.
Like everyone else in the show, she is shown to commonly break the forth wall.
Relationships
Edit
She is shown to be close to the other members of the club.
Memorable quotes
Edit
Image gallery
Edit