Karin Touno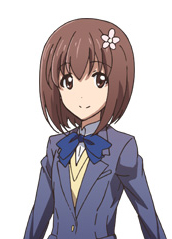 Karin Touno (voiced by Mizuki Yuina) is a main character in Chronicles of the Going Home Club.
Personality
Edit
Karin is shown to be the ditz of the group. She tends to act more childish then the others. She also has this sort of charm that only Natsuki is immune to. Like everyone else in the show, she is shown to commonly break the forth wall.
Relationships
Edit
She is close friends with all the members of the club, especially true with Claire.
Memorable quotes
Edit
Image gallery
Edit