Claire Kokonoe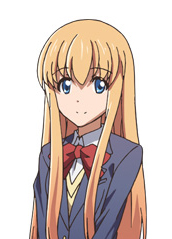 Voice actor
Ayaka Senbongi
Claire Kokonoe (voiced by Ayaka Senbongi) is a main character in Chronicles of the Going Home Club.
Personality
Edit
Claire is one of those "Money can solve everything" girls. She is shown to have little spending knowledge, if she needs to travel a small distance or when she wants to help Karin climb a flight of stairs, she'll call in a helicopter. Like everyone else in the show, she is shown to commonly break the forth wall.
Relationships
Edit
She is good friends with the other members of the Going-Home Club.
Memorable quotes
Edit
Image gallery
Edit